Why Promotional Products?
Are you ready to enhance your brand awareness with innovatively designed promotional products?
Increasing your brand popularity using highly creative promotional marketing to leverage your brand is a smart strategy. Every time your promotional product is used, your organization makes another lasting impression.
With over 50 years in business, Crichlow Products can work with you to create customized promotional products that help your brand stay top of mind.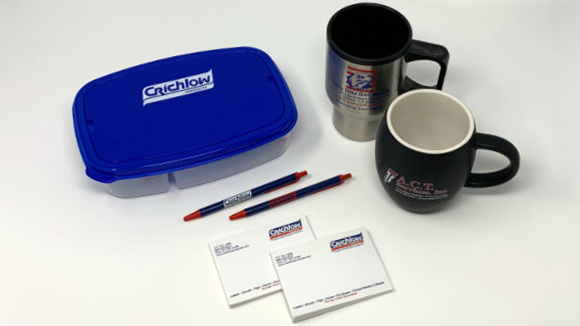 The best part is, your customers enjoy receiving the useful promotional products. So, it works as a win-win strategy for both you and your clients, while aiding in customer retention and new lead generation. A clever and useful promotional product can make your target audience intrigued, seeking to learn more about your organization.
Promotional products have gone beyond pens with your logo, printed t-shirts, and branded power banks. We remain focused on enticing your customers with our custom promotional product knowledge and experience.
Have a Custom Printing Project in Mind?
Have a Custom Printing Project in Mind?
How to Choose Which Promotional Products to Use?
To help you choose the best-suited promo product for your business, we have curated a list of key points for your consideration:
Why Choose Promotional Products?
At times, it gets difficult to choose the right promotional item from the millions available in the market. We would recommend you consider several factors before you roll out promotional items at a local event, convention, or trade show.
Here are some of the strongest reasons why you should adopt promotional marketing as a part of your overall marketing strategy:
Over 75% of customers end up remembering a brand that gave them a promotional product

60% of consumers will save a promotional product for more than 2 years

97% of customers will gladly accept a free promo item

50% or more will use a promotional item at least once a week

85% of customers will engage in a business transaction with the advertiser after getting a promotional product
Why are Promotional Products so Popular?
Cleverly designed promo items are used to help customers in their daily lives. Businesses can earn a solid ROI when promotional products are considered useful by the end user. Things such as pens, mugs, and bags come with a significant recall value, as they get regularly used or noticed.
Why Choose Crichlow Products for Promotional Products?
Just about every industry can derive exceptional value from the use of relevant and creative promotional products. With our extensive experience, our experts will help you decide on the perfect promotional marketing products to separate your organization from its competition.
We can work with your artwork or create new art for your next promotional marketing push. Call us today to learn more about how promotional products can help your business.