Are you ready to boost brand awareness and deliver product-specific information with custom printed paper or Tyvek tags?
We understand that your business may carry a multitude of products that need to be categorized and tagged for your clients and customers. At Crichlow Products, we have extensive printing capabilities with advanced technology to meet all of your product categorizing needs via our large selection of custom tags.
Our personalized tag printing services include cloth, paper, continuous, Tyvek, and wet strength tags with additional attachments of string, elastic or wire. Whatever your tagging needs are for your business or products, we have a solution that will more than meet your needs.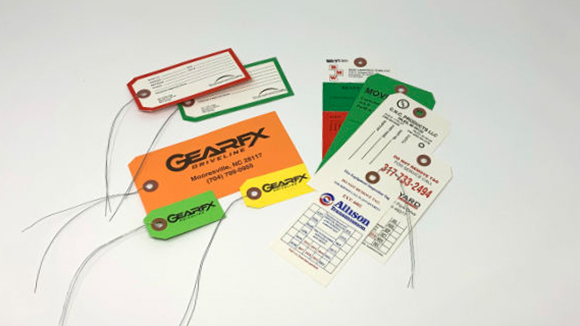 If you are looking for an experienced printing company with competitive pricing, we can help!
Crichlow Products will be your trusted tag printing partner for high-quality custom tags for your products. We give you our full guarantee on the print quality, and will see that your project gets completed from start to finish on time.
Have a Custom Printing Project in Mind?
Have a Custom Printing Project in Mind?
Tag Finishing Services
Once Tyvek or paper tags are printed, we provide additional tag finishing services including:
Types of Tags
Paper & Tyvek Tags
We have printed paper and Tyvek tags available in sizes from 1-8, as well as custom sizes to fit any outside-the-box need. We can provide the below options and more upon request:
10 Pt, 13 Pt Manila with or without color (metal eyelet and fiber patch can be added as needed)

Oversize 13 Pt Manila and CSU are also available

White & Color Tyvek Tags are available (customizations can be done for color, sizes and metal eyelet sizing)

Attachment options include double wire of 21, 23, 26 gauge

White elastic string or cotton strings that may be knotted or looped

Blank Tyvek and paper tags are also available with the desired attachments
Tag Design
A tag's primary usage will define the type of design. Nevertheless, it should always include your company-specific branding elements.
Logo printed on the tag shifts your customer's focus back to your brand.

Website address draws their attention to explore more about your business.

Add social media and other contact details for instant relationship building.
Why Choose Crichlow Products for Custom Tags?
Crichlow Products provides you with high-quality printing at competitive pricing. We wish to offer a memorable experience and quick pricing turnaround for all of your printing needs. We will consult you on every step from planning to delivery and ensure total satisfaction.
Have questions about tag printing? Call our friendly and helpful tag printing experts for all your questions or request a quote today! We are available between Monday to Friday from 9 am to 5 pm EST and would love to work with your business!