Why Wide Format Printing?
Be seen by prospective customers in big bold letters, and showcase your brand's message to the world. Wide format printing is the most effective strategy to catch eyeballs and boost your brand's awareness from afar.
Have you ever seen a large sign or banner in a trade show, near a highway, or in any shopping mall? That "larger than life" banner is the result of wide format printing. Whether it's a gigantic sign at an international trade show, or branding the newly launched real estate project at an airport, a well designed sign will arouse interest and attract attention from distances near and far.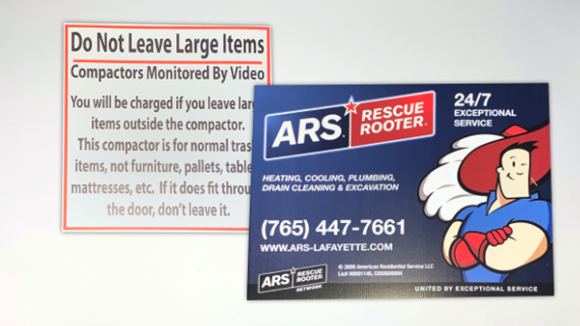 Have a Custom Printing Project in Mind?
Have a Custom Printing Project in Mind?
Our Wide Format Printing Service Offerings
Custom Signage

Vinyl Indoor/Outdoor Banners

Mesh Banners

Backlit Film

Window Clings
Magnets

Window Perforations

Floor & Wall Graphics

Posters

Wallpaper
Printed Fabric and Canvas

Textile, Poplin & Table Throws

Adhesive Vinyl, Translucent Vinyl & Clear Vinyl

PVC Boards, Foam-core, Gator Foam & Coroplast

Printed Aluminum
Posters

Trade Show Graphics

Point of Purchase Displays

Yard Signs
Why to Choose Wide Format Printing?
These days, the success of every brand is partially driven by its visual appeal. Business signage and wide-format printing are deep-rooted in our daily lives; increasing awareness, drawing our attention, or inspiring our choices. We understand these aspects, and are adept at making aesthetically pleasing banners and signs with attractive graphics. Our elegant designs are sure to be the head turners for your company.
All our finished products come with high resolution, suitable material for the application, vivacious colors, and excellent custom finishing. Our wide-format printing professionals can print banners in almost any shape to fit your need. A visually striking large format sign can effectively draw the attention of your target audience. Our vast collection of printing substrates can comfortably accommodate any indoor or outdoor application.
Allow us to blend our creative pursuit in conceptualizing your idea, and creating that unforgettable visual experience for your company or brand.
Why Choose Crichlow Products for Wide Format Printing?
Our experts offer a diverse range of wide-format printing services to accommodate almost any sized project. We combine large scale printing capability with personalized service, and our unmatched attention to detail ensures every project will have a brilliant end result. Our team of printing specialists analyze every detail to ensure all of our end products pass through stringent quality control testing. Our quality assurance begins during the initial layout and proofing, and continues through every step until the final product has been delivered.
If you need a quick turnaround at the last minute, we have the technology to deliver a fantastic sign or banner in an expeditious fashion. The razor-sharp focus of our experts and exceptional customer service are committed to making your project a success every time, and on time. Our expert team works in tandem with you to set the stage before initiating production. The quality of a project is never assured if it is not backed by proper communication. A perfect blend of high-quality print with smart communication is required to convey the exact message to your customers.
For over 50 years, our wide-format print experts work in conjunction with the brands to gauge their needs and reach the best solution for their project. Over so many years, we have successfully built our brand by providing exceptional customer service, timely delivery and top-quality output at a reasonable price.
Give us a call today to learn more about our wide-format printing options.